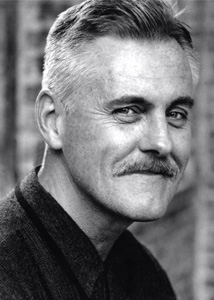 This month's West Village Original is Richard Eric Weigle, organizer and host of the third annual Greenwich Village Film Festival, screening from October 25–28 at Greenwich House. Born in Scotch Plains, NJ, in 1945, Weigle has had a variety of careers including–for the past 17 years—president of the Grove Street Block Association. He has lived on Grove Street for 44 years and currently resides there with his husband, interior designer Michael Anastasio.

In the course of Richard Weigle's long and varied career he spent two years as a Peace Corps volunteer in the Philippines, taught school for 25 years, had a recurring role on television's Guiding Light, served as director of the library at the Museum of Television and Radio, and was an associate producer on the documentary film Broadway: The Golden Age.
"I had always been interested in film but never dreamed that I could become a film producer," Weigle says. "That's why when I heard there was going to be a Greenwich Village film festival—started by the actors and directors Antonio Padovan and Alessia Gatti—I became so enamored of the idea. I went to producer Rick McKay, whom I had met through my work at the museum, and suggested that we put together a small film to enter." The resulting 20-minute film was called Greenwich Village: A World Apart and featured actors talking about theatre and living in the Village.
Not only did he submit a film, but Weigle also became determined to help the organizers bring the festival to the next level. "The first film festival was just one night at the Players Theatre," he says. "I've had a long tenure as president of my block association so I know everybody in the neighborhood. Along with my husband, Michael, I got started by raising money and facilitating contacts. We helped them take the festival to three nights last year. This year it will run for four nights and hopefully it will keep growing."
As for the festival's premise, Weigle claims they're trying to bring back the Village as a center for creativity and the arts. "It's such an iconic place but it's getting a reputation for being gentrified," he says. "This area has a rich history of individualism and was once the center of the beat generation, folk music, the arts, and protest. I think we have as many creative people here as we ever did, we just need venues where they can show their work." And right now the festival is a labor of love; no one is making any money from it. "If you do everything for money, you're going to miss out on so much," Weigle says. "My mother once said, 'Richard, you will never lose that Peace Corp spirit.'" He laughs. "But I don't care! I do it because I want to be inspired and I want to be inspiring."
Weigle moved to Grove Street in 1973 and has witnessed enormous changes first-hand. "When I moved here it was 80% gay and now it's 80% straight," he says. "That's one major difference! And you can't help but see the steep price of housing, the increase in rents, or the small businesses that were forced out. But a lot of things also happened for the better when the West Village became gentrified. It has never looked nicer, the street lamps have been replaced with period crook lamps, there's a big increase in trees and plants, and it's never been safer. Those are huge things."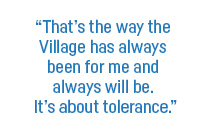 "I actually don't talk a lot about the 'good old days'," he continues. "Yes, there were things that were great then but I really believe in embracing the present and trying to find solutions to current problems. When people ask me how I run such a successful block association, I say you can do one of two things. If you don't want to work then write a check and if you don't have money, then do some work. But do something for the community! That's my philosophy."
Speaking for both himself and his husband, Weigle admits, "We love New York. We're not happy about the current political climate in this country but here it's still very tolerant and open-minded. From the moment I moved onto Grove Street, it was clear that no one cared about your race, your religion, your sexuality, your college, or what your parents did. It was 'Tell me about yourself right now.' That's the way the Village has always been for me and always will be. It's about tolerance."