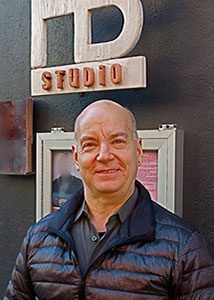 This month's West Village Original is actor, dancer, choreographer, and financial advisor David Maurice Sharp, born in Avonmore, Pennsylvania. His book "The Thriving Artist: Saving and Investing for Performers and Artists" was just published by Focus Press. For the past seven years, he has also been giving free investing workshops at HB Studio on Bank Street. While David doesn't perform any more, he still does some choreography for theatre and film.
"If I had known back in the day the kind of road I would go on I would have found it very interesting," says David Sharp, with a certain amount of understatement. When he came to New York in 1980, it was to study acting and dancing at NYU's Tisch School of the Arts. And yet it was going to work for a Wall Street firm that changed the trajectory of his life. "All these disparate elements of my life have kind of gelled together now," he says. "When I was doing the Wall Street stuff I thought it had nothing to do with my creative life—except financially—and vice versa. But I love that both careers helped get me to this point."
It all started around 1987 when Sharp was trying to figure out how to make money until his next gig came along and he signed onto a temp agency. "The first place they sent me was a proxy solicitor on Wall Street," he says. "They hired me as a temp but then they started sending me out on business trips. One day they said they wanted to hire me directly. I had no intention of giving up dance, but they asked if I could give them 20 hours a week. I ended up doing just that and I was with that firm for almost 13 years! They always let me pursue my artistic endeavors whether I was on tour, attending classes, or in rehearsal."
"At the same time I learned about stock and bonds," he continues. "Friends in the arts began asking me to explain to them the intricacies of investing so we formed a group called The Thriving Artists Investment Club. We paid dues of $25 a month. We pooled these dues and invested them in securities, eventually forming a partnership. The club was in existence for just under 10 years and we made over a 40% profit when we cashed out. We did pretty well for a bunch of artists!"
Sharp declares the best thing about what he does is giving artists the ability to feel like they can take control of their finances. He doesn't blame them for their initial reservations, though. "No one is ever really taught investing," he says. "If you haven't been exposed, it's scary. It's like learning a different language. But I think a lot of the traits that artists have make them good at finance. For example, their creativity: they're able to think in ways that can be very useful when looking for investments. I also think the discipline they have is essential. Artists understand the notion that hard work needs to be put in to achieve results, whether they're performing or investing."
Sharp moved into the West Village almost 25 years ago. "When I was at NYU and living in the dorm on Fifth Avenue and Tenth Street, I remember thinking that this might be the best address I would ever have in New York!" he says laughing. "But then I got into this apartment on Bleecker Street. I sublet it the first few years and I bought it in the late 90s. Before I did, though, I was terrified. I didn't know how I was going to pay my mortgage. But my father was very instrumental, saying 'You need to buy it because it will make a big difference in your life.' Thank goodness he did!"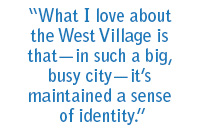 Since then, Sharp has watched as the neighborhood has changed dramatically. "Bleecker Street in particular is almost unrecognizable," he says. "It used to be all these unique stores and restaurants. Do you remember when Judith Stiles had her pottery shop here? I loved taking people there. I think all of my sisters have a piece of hers, which they bought when visiting. Those kinds of places I really miss. Now Bleecker has become the Rodeo Drive of New York!"
And yet he's pragmatic about the change as well. "Change happens!" he admits. "What I love about the West Village is that—in such a big, busy city—it's maintained a sense of identity, of being it's own neighborhood. Despite the changes that have happened here I think it's held on to that quality. It's still a wonderful neighborhood. It's just different."
Photograph of David Sharp by Maggie Berkvist.