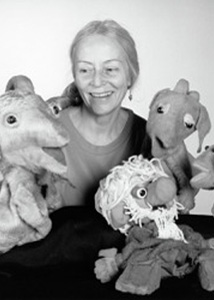 This month's West Village Original is Minneapolis-born Penny Jones, founder and creator of Penny Jones & Company Puppets. Since the 1970's, the company has specialized in informal puppet shows for children as well as puppet ballets with live music for audiences of all ages. A West Village resident for decades—including the past two in Westbeth—Jones still performs regularly.For schedule information visit www.pennypuppets.org.

When Penny Jones attended Antioch College in the 1950s, part of the requirement for students was participating in "co-op" jobs in which they experienced different careers."I was sick of everything by my senior year and I really wanted something new and exotic," she says. "So I applied to work as a puppeteer in a department store in Providence, Rhode Island. They agreed, but first sent me to New York for a two-day crash course in handling puppets at Suzari Marionettes. Then we went off to Providence and I did twenty shows a day, eight minutes a show." It turned out to be a work experience that would determine her life's passion.
Jump to 1970, when Jones was by then working with a quality puppet company. She was also a mother with a young son and was taking him to various puppet shows. "They were terrible," she says. "They were staffed with actors who behaved as if children's theatre was beneath them. The scripts were poor, the characters stupid. I became very committed to the idea that when I had my own troop I was going to specialize in shows for younger children. I spent the rest of my life exploring different ways to reach younger children, to inspire and include them. The wonderful thing about children is they naturally participate. You almost have to hold them back and if you invite them to be part of a show they just love it."
It wasn't long before The Little Synagogue on East 20th Street invited her to do a puppet show. "I asked my puppetry class at The New School if they wanted to become a troupe and they agreed," she says. "We paid a percentage of the box office to cover the rent." Jones proceeded to mount consecutive repertory seasons at the The Little Synagogue, The Studio on West 11th Street and Greenwich House Music School, and monthly appearances at the Barnes & Noble children's department at Fifth Avenue and 18th Street. During this period she created nine puppet shows all designed specifically for younger children. "The production cost was mostly for labor since the materials were cheap and the theatrical effects simple," she says. "And while we dealt with serious themes for some shows, it was all couched in language a three year old could relate to."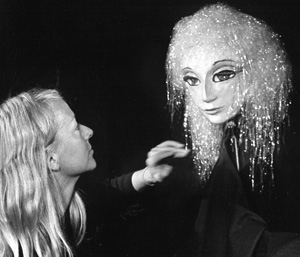 Why does Jones feel that puppetry suits her so well? "I'm a natural storyteller," she says. "It comes without difficulty. I could have been a writer, I'm sure. I'm a very curious and adventurous person, as well. I like to experiment with all kinds of different materials for my puppets. I also love making stuff. Doing a puppet show includes all the things that I love to do so it fits me to a 't'. However, I never used to call myself an artist and for years I had this room in my apartment but I never called it my studio. Then one day I finally said, 'You know what? I am an artist and this is my studio!'"
Nothing better illustrates the change to the West Village than Jones' audience members themselves. "When I first came to Westbeth and did a puppet show here there weren't any children," she says. "Now there's this tidal wave of young kids in the neighborhood, and all over town actually. It's a good time to do repertory puppet shows. All these children are a plus to me now in my career." And while Jones could list "all the negative things" that she regrets have happened to this neighborhood over the years, it's her memories of an earlier time that resonate.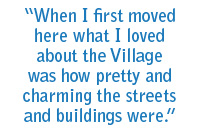 "When I first moved here what I loved about the Village was how pretty and charming the streets and buildings were," she reminisces. "You would pass these wonderful little shops where people were doing their own thing. There were all kinds of curiosity shops. I was extremely happy, too, because I could wear whatever I wanted to wear and just blend in. I wore these kind of Greek sandals that were made by a shoemaker here and nobody looked twice. Everybody else was wearing them, too. The Village was like a family. It was my kind of place, all blissful and peaceful. It was a very lovely time, as if summer would never end."