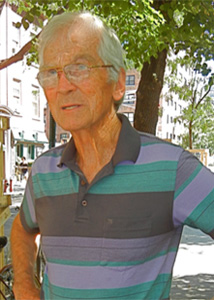 This month's West Village Original is Barry Benepe, born in Manhattan in 1928. After acquiring a degree in architecture from MIT, Barry became an urban planner and in 1976 started the Greenmarket revolution in New York City. He ran the organization for 22 years, retiring in 1998 to write and to continue to be active in his community as a volunteer. Until recently, his eldest son, Adrian, was New York City Parks Commissioner.
"Two things I've always hated were the suburbs and the automobile," Barry Benepe confesses. As an architect, preservationist, and urban planner, he long felt that both had created the "homogenization" of the countryside and had blurred the distinction between country and city. "I've always wanted to keep that distinction alive," he says.
An opportunity to do just that arose in the mid-1970s when Benepe—after a foray into historic preservation—was doing planning work in New York City. One day he and his colleague, Bob Lewis, started talking about farmland loss and ways to halt it. "We were given $800 to raise foundation money to start farmer's markets to save farmland," he recalls. "At that time the food in New York was horrible so we dreamed up the idea of green markets. The foundations didn't think the city had the money to run the markets and so we decided to run them ourselves."
Was there a model for Greenmarket? "Yes. And this is where history comes in," Benepe answers. "Our city centers grew during a time when farms kept them alive with locally grown food. I was returning to a historic model that had been outdated for 100 years but was equally applicable today. To make it work I had to pragmatically develop the model to work in the field. It wasn't all that difficult because the farmers were doing so badly and they were very receptive to the idea."
In 1976, the first Greenmarket opened with 12 farmers in a parking lot on 59th Street and Second Avenue. A few months later Benepe and his team got a call from the head of the Manhattan Planning Department. "They were desperately trying to revive Union Square, which was going downhill very fast," he says. "Klein's Department Store was closing, there were drug dealers in the park, and things looked grim. They asked us to start a green market there but we were not very happy about doing it. However, the City really came on board and gave us all the necessary permits and the next mayor, Ed Koch, was a big supporter." Today, the Union Square Greenmarket is the jewel in the crown of a network that encompasses 54 markets. "And Greenmarket is self-supporting," Benepe adds. "It does not require foundation money because we're able to fund it through farmers' fees."
What was his greatest satisfaction through all of this? "Accomplishing the goals!" he readily admits. "Giving farmers a better living and getting better food on our tables. What's magical about Greenmarket is the enormous variety it offers consumers. It also brings in ingenuity and youth. The farmers—who are the real heroes in this story—first came in 1976 and now their children and grandchildren are coming to the markets. It's kept families farming. It's also satisfying because it's a team effort. I've gotten such wonderful heartfelt sentiments from the farmers."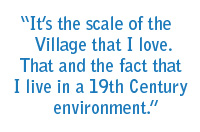 Benepe has had his apartment on Jane Street since 1971 and shares it with his wife, Judith. True to his love of historic preservation, it's the neighborhood's sense of an earlier time that resonates with him. "It's the scale of the Village that I love," he says. "That and the fact that I live in a 19th Century environment. The streets are narrow and crooked. It's very special in that sense. We still have houses with gardens, and as Jane Jacobs would say, those who live on the ground floors have their 'eyes on the street.' We do shopping in very local stores and we even try to buy our clothing locally. It's like living in a true village and we love it."
"What's wonderful is that the Village isn't much different than it used to be," Benepe continues. Then he pauses for a moment. "If it is different, it's that the new people aren't as involved in volunteer community work as much as my peers used to be. Most of the things I accomplished in life I did as a volunteer, not as a paid professional. I did it because I wanted to control my environment. I didn't just want to be a passenger in life. I wanted to be a driver." He laughs. "I still do!"
Photo of Barry Benepe by Maggie Berkvist.