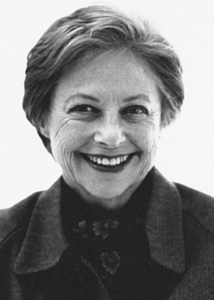 This month's West Village Original is food editor and writer Mimi Sheraton, whose many adventures in the industry include being the restaurant critic for the New York Times from 1975–83. Her columns about food have appeared in countless magazines including Harper's Bazaar, Vogue, Esquire, The New York Times Magazine, and Condé Nast Traveler. These days she's finishing a "long overdue" book that is a personal food glossary as well as hosting Musical Suppers for the New York Philharmonic. She lives on West 12th Street with her husband, Richard Falcone, in the brownstone they bought 45 years ago.

While she was growing up in the Midwood section of Brooklyn, Mimi Sheraton soon discovered that not all food was alike with regards to quality. "My mother was a very good cook," she recalls. "It was very important to her. My father was in the wholesale fruit and produce business in Washington Market. He would come home and talk a great deal about fruit and produce from different places. As a young person, I quickly got to know that there was such a thing as discernment when it came to food. Though I wasn't aware of it at the time, I think it made me conscious of that all my life."
After graduating from NYU with a major in journalism and marketing, Sheraton first began writing about interior design and home furnishing. "I never knew there was such a profession or career as writing about food," she says. It was while she was working as the home editor at Seventeen that she was asked if she would like to be the food editor as well. "Everyone knew I liked food and could cook," Sheraton says. "So it was a very easy transition to food writing. And I liked it better. There was a lot of freelance work in it as well as a lot of travel."
In 1975, Sheraton landed what some might think is the ultimate job for a food writer: restaurant critic for The New York Times. And what was that like? "I loved it," she admits. "It was a lot of pressure and a lot of eating, but I loved doing it. I'm crazy about restaurants and I thought it was fun and useful to be doing the critiquing. Of course, New York is a great city to do it in because of the diversity of restaurants. There are big fancy ones, interesting humble ones, and almost every kind of cuisine in the world. So it was a very interesting job." Sheraton subsequently quit the Times in 1983 for a couple of reasons. "Some were having to do with politics at the paper," she says. "But I also felt that I was becoming too well known in New York to do restaurant reviewing anonymously, which it the only way it can be done valuably." Still, it remains the job she claims to have loved the most.
Sheraton first moved to the Village in 1945 while attending college. "It was much quieter then, more laid back, maybe a little more Bohemian," she remembers. "The Village was a place of human proportions with very liberal people. It was also a very contentious population, which I like: people always fighting for their rights and fighting to preserve the neighborhood."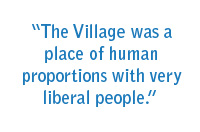 What are some of the biggest changes Sheraton has seen in the Village? "Prices!" she says, laughing. "But seriously, affordability for young people and artists has changed a great deal and with that came a change in the population too. The advent of co-ops and condos means we have wealthier people coming to buy the property. Unfortunately, they're not quite as laid back as the old Villagers used to be." Sheraton also has harsh words for her alma mater. "I hate NYU because they're destroying Greenwich Village," she says. "I've lived here 65 years, I'm a property owner, and I deplore what NYU is doing to the Village. I'm not at all proud of being a graduate. And you can put that in the article!"
Sheraton remains committed to the Village, though. As befits a food enthusiast, she recites a long list of local restaurants that she enjoys patronizing, from Babbo to Elephant & Castle. And she has nice words to say about the Sixth Precinct as well, claiming to have a lot of faith in them. Summing up a successful life and career in this neighborhood, she says, "I'm as delighted to be living here as I was when I first moved in. The minute I discovered the Village and roamed around it, I wanted to live here. And over the years, the Village has been very good to me."