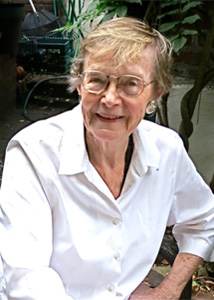 This month's West Village Original is Joan McAllister, born in Los Angeles in 1929. For the past 26 years McAllister has edited and published a monthly informational newsletter for families in New York City shelters named "How…When…Where." A resident of Charles Street since 1970, she still lives in her brownstone with her two West Highland terriers.

As a young woman, Joan McAllister had the firm idea that what you did after college was stay home for a year, get some kind of job, and then move to Paris. So that was just what she did after graduating from Stanford with a degree in journalism. "After a year I decided to go to Europe and took my mother," she says. "The two of us traveled for four months and had a wonderful time. But I decided I was too young to live overseas. On the way home, Mother dropped me off in New York. She left me in a hotel on 49th Street and 1st Avenue. That's where I started out and I got a job with Newsweek." McAllister was there for four years but left when it became clear that editorial positions went to the men on staff. "So I went to NBC instead," she says. "It was amazing! I was hired immediately as a writer in public affairs. Television was less old fashioned about women."
In 1960 McAllister married her husband, John, an editor at Newsweek. "I retired from being a paid writer because I wanted to raise my kids," she says. By the 1980s, with the children grown and now a widow, McAllister started casting about for something to do. "I was entertaining myself by doing a lot of volunteer work," she says. "In particular, I was very involved with the homeless crisis in New York and the shelter system that grew up around it. I discovered that there were a lot of services available to families in shelters that they didn't know about. Someone said to me that we needed a newsletter that would provide that information. So we brought out the first issue of How…When…Where in June of 1987."
According to McAllister, it's still pretty much the same publication today. "We give advice about getting a job, receiving legal aid, or finding healthcare," she says. "We list sports activities for kids. I have one writer who's an expert on children with disabilities and I have people from Legal Services who write for me as well." And does she continue to enjoy publishing it? "Oh, yes," she admits. "I love it! I'm quite convinced the information is useful and that we came up with a good solution for getting it out there. Although I'm getting old and I'm going to have to hand the newsletter over to someone else soon!"
A resident of the City since 1952, McAllister and her husband moved to Charles Street in 1970. "It was probably the last time anybody but a millionaire could purchase a house around here," she says. But when asked how much the West Village has changed since moving here, McAllister not only doesn't have a list of complaints, she has to admit she doesn't see much change. "It's terrible, but when anyone starts talking about change, I have to admit I don't see any at all," she confesses. "It feels like the same place to me. I can't tell the difference like everybody else seems to. You assume if someone buys a house here nowadays they must be wealthy, but they just look like Villagers to me. And it's the same atmosphere as it's always been."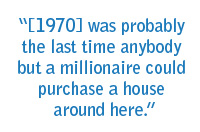 "Right now I'm standing at my window looking out on Charles Street and it looks like it did 40 years ago," she continues. "The fact that we can't change the outsides of our buildings contributes to this feeling that nothing's any different. The restaurants all look like the same kinds of restaurants. People dress pretty much like they've always dressed. I've been going to the same deli every morning for decades. So if there have been changes, I'm clearly missing some clues!"
All this adds up to one very satisfied long-time West Village resident. "I can't imagine living in any other part of town," she says. "I'm sure that shows a certain lack of imagination but I think it's a wonderful place to live. It's got everything I need. I also thought it was a wonderful place to raise my kids." McAllister stops to think a second. "Although, perhaps I should ask them," she says, laughing. "They're both living in completely different environments now! But then, I picked a place that was completely different from what I grew up in myself. We all do that."
Photo of Joan McAllister by Maggie Berkvist.