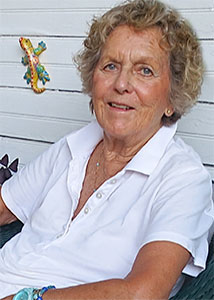 This month's West Village Original is painter and long-time West Villager Marjorie Colt, born in Canton, Ohio in 1935. Colt moved to Horatio Street in 1959 and started running a B&B out of her house there in 1992. After selling the building this summer, Colt moved permanently to Oakland, California to be closer to her three children.
When Marjorie Colt was a girl growing up in the Midwest, her dream was to move to New York City one day. "My entire goal from the eighth grade was to come here," she says. "To me it was everything they didn't have in Canton, Ohio, believe me! It was a good place to be from, but I wanted more. When I graduated from Mount Holyoke College in 1957, I came directly here. I roomed with three girls, all classmates from college, and our apartment was at 12 Fifth Avenue."
Colt met her future husband her very first night in New York and, two years later, married him. As newlyweds, they purchased a house on Horatio Street for $37,000 and moved in on November 6, 1959. "My mother-in-law was appalled," says Colt, laughing. "The West Village at that time was NOT the MacDougal-Sullivan Gardens, which is where she lived. Our house might as well have been in Siberia as far as she was concerned. It was quite an adventurous thing to do and everybody thought we were crazy."
What was Horatio Street like back then? "It was very working class and there was so much activity because of the Meat Market," Colt says. "In the middle of the block was a bodega. An Armenian woman owned it and lived in the back with her family. She cooked food and sold it to people who worked at the market. Because the kids who lived here were always outside, at the end of every weekend the entire street would be littered with Twinkie wrappers and soda pop bottles. And, of course, we had the railroad tracks that went through what is now 95 Horatio. At three o'clock in the morning those tracks would start switching and clanking and, God, the noise they made was amazing!"
"The houses on my side of the street were always nice, though," she continues. "And after a while, others started buying them. Then numbers 75 and 77 became the Masters Children Center, one of the first day care centers in New York City. And next door to me at number 81, before he went to Paris, you could see James Baldwin smoking on his balcony."
Colt began running her B&B in 1992 after her kids were grown and she needed to make money. What was it like having paying guests? "It was fun!" she readily admits. "In 22 years I had four people who were a problem. Maximum. Financially, it was very good to me as well, I must say. It allowed me to keep my house, which I couldn't have otherwise. It was only in the last few years that it didn't make enough money and that's when I decided to sell."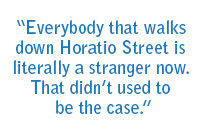 Besides, things had changed dramatically since Colt moved to Horatio Street. "It's just not my Village anymore," she says. "The people who moved into the house next to mine are so rich they installed a swimming pool in the back yard. It looks like a huge bathtub! That's when I thought, 'I've got to get out of here. I can't take it anymore.'" She finds it easier to leave, though, because of whom she sold her house to. "I didn't want to sell my house to some absentee oligarch who was going to come on a weekend every four or five months," Colt says. "Instead, I found a family with three young children who will have all my children's bedrooms. I'm so happy about that."
And yet after 55 years as a resident of the West Village, Colt admits she will miss the rhythm of life here. "It's going to be very hard not to walk to Jackson Square Pharmacy where everybody says, 'Hello, Mrs. Colt'", she says. "Or not to go to the bank where everybody greets me by name; or not to walk to Faicco's to get sausages." Then Colt stops to reflect for a moment. "But everybody that walks down Horatio Street is literally a stranger now. That didn't used to be the case. In fact, I spent a lot of time on my front stoop talking to my neighbors. It's a very different life out here in California, but I think I'm ready for it."
Photo of Marjorie Colt by Maggie Berkvist.