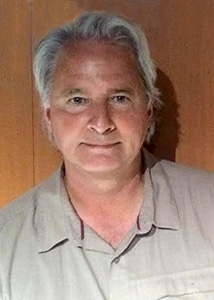 This month's West Village Original is Scott Morfee, the founding producer of Barrow Street Theater in Greenwich House. Born in Boston in 1954 and raised in Pittsburgh, as a producer Morfee has presented such hits as "Buyer & Cellar," "The Flick," "Red Light Winter," "Bugs," and "Killer Joe." In addition, he and BST have presented over 100 shows and guest artists from around the world. Scott currently lives on Barrow Street as well, meaning he can walk to work.

Scott Morfee's passion for theater was not, as one might expect, something that consumed him since childhood. Rather, it gradually evolved after he moved to New York in 1977. "I grew to love theater and the performing arts, " he says. "But it took a long time. I wasn't born with this interest and not only didn't I study it in school, I barely cared about it when I first moved to New York! It happened as I lived here."
Morfee went straight into marketing and public relations after arriving. "All told, I spent at least 10 or 12 years in that field and I learned a lot about the business," he says. "Sort of on a parallel track I was seeing more and more arts and theater and it was becoming very important to me. Eventually, the company I was working for was sold. I thought it was a good time to leave and try to promote and market plays. And by that time I knew theatre was something I loved."
How did he finally make the leap? "In the late 80s, some friends and I decided to produce a play in Los Angeles, of all places," Morfee recalls. "I was not a terribly effective producer back then but we got the show up. I returned to New York and worked on a couple of projects as an associate producer. Then in 1998 a friend called and asked me if I wanted to raise half the money to produce a play called Killer Joe by Tracy Letts at the Soho Playhouse. I said 'yes.'"
Killer Joe turned out to be a big hit. "It was one of those great experiences," Morfee says. "It was a fabulous time for Off-Broadway. People would come to New York to see Hedwig and the Angry Inch and Killer Joe, bypassing Broadway altogether. There was so much really cool stuff going on down here. If you combine the jazz, theatre, and piano bar culture it was like the Miracle Mile." In 2003, Morfee found out that the theatre space in Greenwich House was available. "I literally ran there and we took the lease over in October of that year," he says.
So Morfee went from being a "not terribly effective" producer to one who was demonstrably effective, starting his own theatre company, and producing other hits like Bugs and Buyer & Cellar. Can he say that Killer Joe is what finally turned his interest into a passion? "The show taught me a lot," he admits. "I personally filled many positions during the run: lead producer, box office manager, house manager, usher, and more. So it was pretty immersive and its success made my decision to try it again much easier. I found myself sticking with it because it's so challenging. And as they say, 'You're only as good as your last show.' That's motivating!"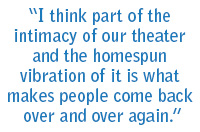 Since Morfee began the Barrow Street Theatre, the real estate boom in the Village has put its own kind of pressure on the industry. "We've lost quite a few venues," Morfee says. "Converted to condominiums or just gone. That's the sad part. The good part is knowing how many people from around the world come to see what we're doing at our theatre. There are times when 50% of our audiences are from outside both the metro area and the country. A lot of that has to do with our international programming. But we also have a profile for good work and the brand has earned the respect of people who live outside the city. That to me is fantastic."
In other words, it's the idea of the Village as a destination? "Absolutely," he agrees. "I think part of the intimacy of our theater and the homespun vibration of it is what makes people come back over and over again. You get to enjoy a neighborhood as well. It's experiential, but in a uniquely West Village way."
Photograph of Scott Morfee by Karly Fischer.