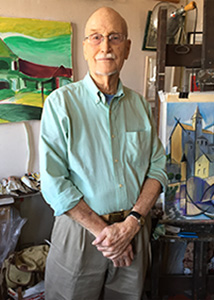 This month's West Village Original is painter and designer Peter Harvey, born in Guatemala in 1933 of British parents. He was a scenic designer for many years, working on both Broadway and Off-Broadway, as well as designing the original 1967 production of Balanchine's "Jewels" and the 2004 revival. Nowadays, Harvey devotes his time exclusively to painting—in both oil and watercolors—in the U.S. and France. View his work at www.peterharveypaintings.com.
After a long and successful career as a theatrical set designer, Peter Harvey finally decided to call it quits in 1987. "I'd had it!" he says. "I went into the theatre because I felt it was an art and one that I loved. However, the love affair was over. After 30 years I found that here in New York it was a very commercial endeavor and nobody really cared if it was art. They wanted the easiest and cheapest thing on stage that they could get. Someone once suggested my name to a successful director and he responded, 'I don't want to use Peter. He's too creative.'" He laughs. "That's a great compliment, but it didn't get me the job!"
Besides, it was painting that always gave Harvey the greatest pleasure and continues to do so. It began when he first went to the University of Miami in Coral Gables. "In those days they were pushing abstract expressionism but I just couldn't get with that," he says. "I don't know why! I just couldn't think in those terms. You could get a nice effect and pretty colors but I never got any meaning out of it. Perhaps it's because I grew up in an earlier era and in an English environment. The children's books I had were illustrated with naturalistic, imaginative, and painterly images. I guess they had a profound effect on me."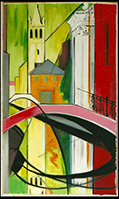 What is it that he likes most about painting? "I love both the physical and emotional aspect," Harvey says. "When I'm done I feel at ease, rested, and complete, not at all worried and neurotic. It's cathartic." One of his most creative periods was during the AIDS crisis while he was looking after a sick friend. "Robert and I had been partners and friends for 21 years," he says. "It's kind of funny and odd and sad to say, but those were the most creative years that I had. I worked all the time and nothing interrupted me. Robert didn't trouble me at all. There was no medication in those days but he was very strong and brave through it all. And, of course, it had an effect on me so I did paintings of him. After he died I did a big painting of him on his bed with his oxygen mask. I think it's the best one I've ever done."
Although he was a frequent visitor to New York before settling here, it was in 1958 that Harvey finally moved into the apartment he still lives in on Perry Street. What was it like to be a gay man in those days? "I didn't find it any problem at all," he admits. "I was not tormented about being gay and once I made up my mind, it was very easy to find mutual friends and people who were interested in the same thing. There were bars throughout the City so there was plenty of opportunity to meet others. You couldn't kiss and hold hands on the street like they do nowadays, but there were no problems. Some people may have found it difficult, but I think it depends on how quickly you accept yourself."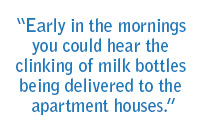 As for the West Village back then, Harvey claims that it was a real neighborhood. "There were funny little curiosity shops on Bleecker Street because you could rent a store for nothing," he recalls. "Early in the mornings you could hear the clinking of milk bottles being delivered to the apartment houses. My building was heated by coal and every few months the coal would rattle down the chute into the cellar. And while the streets are full of trees, many of them were only planted in the 1970s. I remember thinking I would never see them full-size!"
"Now I'm disappointed that it's become so high and mighty," he continues. "It's not a neighborhood anymore. It's full of tourists. Plus it's full of nannies pushing baby carriages. The new residents are such a fecund bunch! I can't disapprove of it, though, because all of New York has changed." Then Harvey pauses for a moment and has to admit that he still wouldn't want to live anywhere else. "It's still the Village," he says. "And you love it because you can see the sky."
Photo of Peter Harvey by Michael D. Minichiello.