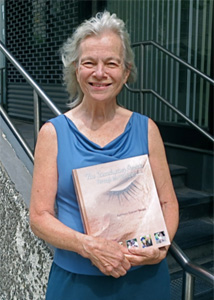 This month's West Village Original is author and educator Kathleen Stassen Berger, born in Minnesota in 1942 while her father was Governor. For over three decades, Berger has taught human development to a diverse student body at Bronx Community College as well as writing such bestselling textbooks as "Invitation to the Life Span." A West Village resident since 1968, Keen and her husband raised their four daughters here. She is currently Democratic District Leader of Greenwich Village.


For Keen Berger, observing people has been a lifelong fascination which, at times, can be all-consuming. "My husband Martin was many wonderful things, among them an amateur gardener," she relates. "One time he excitedly called me to the back yard to look at a flower that had just bloomed. However, I looked at the wrong flower and he said, "I grow beauty for you and you don't even notice it!'" She laughs sheepishly. "But what I've always noticed is what people are doing and why they're doing it. That's where my eyes and my thoughts go. That's what developmental psychologists do."
What drew Berger to this particular field? "Two things," she replies. "One is that I had some gifted teachers who were developmental psychologists. And the same year I started my PhD, I had my first child. So both personally and professionally I became captivated by the whole process of development. Of course, developmental psychology is 'life span' psychology so it's about adults, too. Everybody is constantly developing and to me that's riveting. I walk down the street and I look at people, or I sit on the subway and I look at families. I'm fascinated by how they act, what they do and say, and how they move and interact with each other." She has the same passion for how communities function and work to make themselves better. "That passion was certainly in my family growing up," Berger says. "And that's what drew me to my husband. We were both in the civil rights movement back in the day. It made a lot of sense, working for justice for all people."
When Berger and her husband started having children they were living on Bedford Street and she assumed they would have to move to the suburbs. "But Martin said, "No, we can do it here,'" she recalls. "That surprised me, but it turned out to be a great place to raise children and they had a wonderful upbringing. When our daughter Rachel returned from her first semester at college in Maine, she said, 'Mom, you protected me too much. I never knew there was so much homophobia or sexism in the world!'" Berger laughs. "That's symbolic of growing up in the Village. You're much more likely to understand people of all different backgrounds and appreciate them."
Having lived here for such a long time, what does Berger consider the biggest change to the neighborhood? "The saddest part is that it has become much more elite," Berger observes. "Many wealthy people have come in and many of the artistic types have moved out, especially the young. Now the people who live here are a very different demographic." That said, she does consider the possibility that things could always change again. "Social change is very interesting and it's hard to predict. I don't expect things to go in a linear direction here and I expect there will be some surprises. I'm not sure what they will be, though. Perhaps one day my kids—who can only afford Brooklyn now—will be able to move back to the Village!"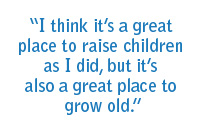 In the meantime, Berger relishes her life here. "I run up and down Hudson Park, I love the High Line, and I'm a member of Judson Memorial Church," she says. "And of course I like shopping in some of the old stores. I still get candy at Lilac." There's also the sense of community here that sustains her. "I know a lot of people and have a lot of neighbors, so personally I have a great sense of community. There's a political community here as well. And lastly, because of my profession, I write and think about growing old and the West Village is a wonderful place for that. It's a safe area where you can walk to all kinds of stores at all hours, and there are numerous opportunities for older people. I think it's a great place to raise children as I did, but it's also a great place to grow old."
Photo of Keen Berger by Maggie Berkvist.