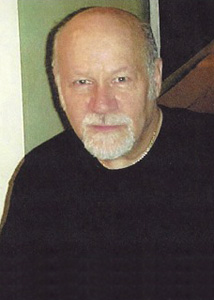 This month's West Village Original is showman, songwriter, and artist Bobb Goldsteinn. As a pop pioneer, he wrote The Village Stompers' international hit "Washington Square" in 1962. These days Goldsteinn is one of the founding members of The FOHQ (pronounced "folk") Club of Washington Square, which seeks to open a new hospital at Seventh Avenue at 12th Street now that St. Vincent's is gone.

"I come from two vast families," lyricist and artist Bobb Goldsteinn says. "On both my mother's and father's side there were approximately eleven siblings each. While both families were very accomplished, I was the first to go into entertainment, much to the dismay of them all. It was only after Life magazine did a story on me that my father embraced me for the first time in my life. That was on my thirtieth birthday."
Goldsteinn grew up in Philadelphia, where he attended high school on the west side. "I'm a proud graduate of Overbrook High School," he says. "In fact, I wrote 'Washington Square' while there. It was for a class project because the United Nations was just opening. I originally named the song 'India.' Madame Padit Nehru—who was the first ambassador from India to the UN—came to our school and gave me an award for writing it. Years later, I turned 'India' into 'Washington Square.' You can say I wrote my greatest song in high school and it's been downhill all the way! " He laughs. "Actually, it's been uphill all the way!" After high school, Goldsteinn spent two "desultory" years at Temple University, left to work in his uncle's bank for a while, headed to Provincetown for a summer, went back home to Philadelphia, and finally came to New York.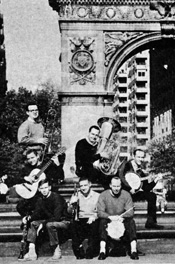 A chance encounter on New Years Eve in 1958 while in line to get into Lenny's on West 10th Street started Goldsteinn on his musical career. "I had just seen a musical called Shoestring 57," he recalls. "There were a couple of numbers in it that really took me; they were both melodic and very, very funny. So I'm talking to my date about the show and—I swear to God—this gentleman in front of us turns around and says 'I'm Claibe Richardson, the composer of those songs.' Amazing! When he found out that I was a lyricist—and found me very affable—he invited me to visit him and to show him some of my work. Three months later he recommended me for a summer project at the Tamiment Playhouse in the Poconos, and I got it. It was a dream project! I was 22, writing sketches with Woody Allen and writing songs with Billy Goldenberg. I have lived off of miracles all my life."
As he became a successful songwriter, Goldsteinn settled in the West Village and became involved in preserving it. "I marched with Jane Jacobs on three matters that threatened the Village in the early 1970s," he says. "The first one was to get William Zeckendorf to drop the idea of buying West Village Housing. Another time was getting Robert Moses to take his sticky fingers off of Broome Street, which he wanted to turn into a tunnel. That was Moses' last hurrah, as well as Zeckendorf's, and neither of them prevailed. These men retired in defeat. The last time was when the City allowed a reconditioned ferry to be placed at the end of Christopher Street as a methadone clinic. This was one initiative we weren't successful in blocking it and it ultimately blighted the Village."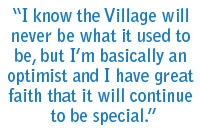 These days, Goldsteinn cites two factors that threaten the existence of the Village as he used to know it. "Artists can't afford to live here when they're starting out their careers," he says. "That and NYU's expansion. Put those two together and they spell the end of the Village. They're taking away the certain peculiarities that gave it its flavor. I don't need to tell you that there are as many creative people as there used to be, not just as many struggling ones and I think that's sad."
Still, Goldstein professes his affection for the neighborhood, both for what it is and what it provided him. "I love the West Village," he says. "It's my history. While living here I accomplished all sorts of things. With the money I made from those ventures, I decided I wanted to move to Christopher Street so I could be one of the interesting people like in Wonderful Town. And I did. I know the Village will never be what it used to be, but I'm basically an optimist and I have great faith that it will continue to be special."