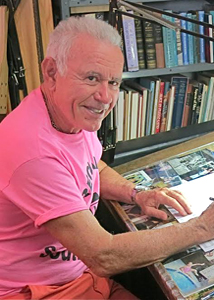 This month's West Village Original is Pulitzer Prize-winning composer David Del Tredici, born in California in 1937. A former Guggenheim and Woodrow Wilson Fellow, he is considered a pioneer of the Neo-Romantic movement. His most recent composition is "Bullycide," which deals with gay teen suicide as a result of bullying. Del Tredici moved to New York City in the early 1960s and has been a resident of Westbeth since 1971.

As a child growing up in Cloverdale, California, composer David Del Tredici was aching for something artistic to do. Yet, it took some time for him to discover just what that was. "I was an ardent flower arranger before music. My mother took me to classes with her. I used to enter competitions; all these old ladies and a ten-year-old boy!" he says, laughing. "It wasn't until I was about 12 that I began playing the piano. I started simply to get out of playing baseball with the bad boys who teased me. However, it turned out I had a talent for the piano. It became my obsession and by the time I was 17, I was performing recitals with the San Francisco Symphony."
It was while at the Aspen Music Festival—between his junior and senior years of college—that he wrote his very first piece. "I played it for Darius Milhaud who exclaimed, 'My boy, you are a composer!'" Del Tredici says. "With that validation, I went back to college and went into the graduate composition seminar."
When Del Tredici began composing, the prevailing idiom of the day was atonality. But in the late 60s he sat down to write Final Alice—based on Lewis Carroll's Alice in Wonderland—and something changed. "The words were so whimsical and witty of Victorian England," he says. "To reflect that, I unselfconsciously had to grasp tonality. And little by little I introduced it into my composing vocabulary and I think I did it in an effective way. Now I'm called the father of neo-romanticism."
At the same time, Del Tredici, being gay himself, found he was welcomed into a world of gay composers. "I met Aaron Copland in 1964 after I sent him a piano piece I had written. I was really cute and very talented and it was easy for me get along with the hoi polloi of gay composers," he says laughingly. "In that sense I had an advantage and I sailed right into that world. It seems like all the great composers are queer! Menotti, Copland, Bernstein, Barber. It's way beyond the normal 'one in ten' queer number." Why does he think that's the case? "In my generation it had to do with the pain of growing up in a society that despised you," Del Tredici posits. "When you found you had a talent for something it was a ticket to success and acceptance."
It would be years later, though, that Del Tredici finally came out, both personally and musically. "I thought, 'Here I go, off the diving board'," he says. That was also after being an alcoholic for ten years, which was a surprise to him. "I got everything I thought I wanted, including a Pulitzer Prize," he says. "But I relaxed and all the energy that had gone into striving went into drinking. Eventually, I realized it was eroding my energy to compose. In the process of recovery I found out a lot about myself and that allowed me to be more open about being gay. It also occurred to me to write music about being gay. That would be the ultimate creative 'outness'."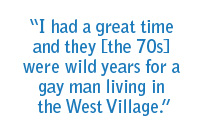 When asked what the neighborhood was like when he moved to Westbeth in 1971, Del Tredici replies enthusiastically. "It was wild," he says. "I loved it. There were sex clubs, leather clubs, and drag queens everywhere!" He laughs mischievously. "I had a great time and they were wild years for a gay man living in the West Village. I can't imagine who wouldn't have liked it!" However, as gay people are being assimilated into society more and more, Del Tredici sees a disappearance of the culture he knew. "Young men aren't interested in the leather scene—which I think is also the history of the Village—or in impersonating women either," he says. "That has to do something to gay culture, at least as we knew it."
After logging in so many years in this part of town, can Del Tredici say he belongs? "I feel like a citizen of the Village, absolutely," he says. "I've lived in other places for a while but I always came back. Oh my God, this is the epicenter of culture and everything! The West Village really is the heart and soul of Manhattan. And I hope 'gayness' still fuels the creativity. I think that's still a big part of life here and in Manhattan as a whole."
Photo of David Del Tredici by Maggie Berkvist.