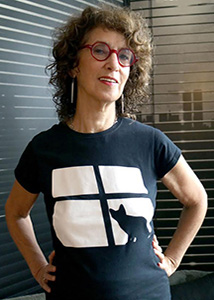 This month's West Village Original is photographer SuZen, born in Beth Israel Hospital and raised in Brooklyn. Her artwork has grown from traditional black-and-white print images shown in galleries to large-scale performances in public spaces. Retired from teaching photography, on May 1st her 50th anniversary retrospective will open at the Westbeth Gallery. Along with an in-depth look her photography, she will be premiering her newest multi-media installation called "Transmigration," inspired by Buddha's teachings.

Coming from a family in which no one was an artist or even interested in art, the photographer SuZen claims that she was the black sheep of a family of four. "I think I was one of those lost psychos," she says, laughing. "I ended up in a family I didn't belong in. Ever since I was very young I was drawing. When I was five, I drew a mural on our living room wall. Of course I denied it and my Mom didn't really believe I did it anyway because it was so good! But I was usually off doing my own thing. Growing up, I really couldn't wait to leave the home."
While she had always taken drawing classes—first at the Brooklyn Library and then the Brooklyn Museum—SuZen didn't discover photography until she was a student at American University. "It was a fluke," she says. "I was a sophomore when this dorm mate asked me if she could photograph me. As a result, I became intrigued with photography and I immediately fell in love with working in the dark room. There's something kind of magical about it: when you're in the flow and you get lost into your art and there's no time, just you into what you're doing. To me, that is the most wonderful state to be in."
Photography also helped SuZen feel more connected with the world. "I was always extremely shy and having the camera enabled me to go in and out of places and feel like I was a part of them," she says. "Always as the observer, though, and the outsider. But as artists, that is what we do, isn't it? We observe. Especially when I'm holding a camera up to my eye. A camera sees everything so I get to select a point of view and decide what to photograph. On that level photography is very wonderful. I always loved—and still do—taking photographs in the outside world but then being alone with them and creating the art."
SuZen was always one of those artists who would do the work and then "forget about it." Now that she has a 50-year retrospective, she's seeing things in a different light. "I'm noticing how my images really do connect, after all," she says. "What has changed is that my process is almost totally digital now. I use Photoshop to manipulate my images and it does open up different possibilities for my creations." And while she doesn't work in the dark room these days, she still has one. She was going to give it up a few years ago but just couldn't do it. "I think one day I will go back," she says. "There's something wonderful about being in a room with orange lights and running water. It's like being back in the womb and totally safe."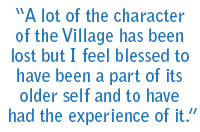 SuZen moved into WestBeth in 1971 and after a few sublets finally got her own apartment there. "I can hardly believe it's been 45 years," she says. "This area was very scary back then, basically truckers and prostitutes. I parked my car for $13 a month under the elevated West Side Highway. Of course my windows got smashed and my tires got slashed, but the price was right!" She laughs. "Now I've literally watched this neighborhood transform in front of my eyes. A new building blocks my sunset views and another one my Empire State Building view. I'm not crazy about all this change but it has been interesting to watch. A lot of the character of the Village has been lost but I feel blessed to have been a part of its older self and to have had the experience of it."
And despite the changes around her, SuZen has always gone with life's flow and still follows that path. "Never in my life did I know what I was doing next," she says. "I'm always open and allowing synchronicity to guide me. By that I mean being open to what life would bring to me instead of having clarity about where I'm going. It boils down to trusting that the universe will guide me to what is next in my life."
Photograph of SuZen by Lucienne Weinberger.