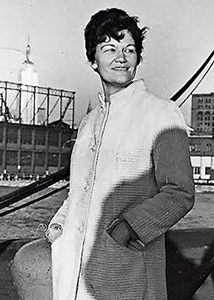 This month's West Village Original is "WestView" photographer Maggie Berkvist, born in Leicester, England. For over 50 years she was a photo editor and researcher, including a 20-year stint at the New York Times, after which she worked as a freelancer for publications such as LIFE. Since moving to New York City in November of 1954, she has spent most of those years living happily on Bank Street.

"I was the only child of an only child," photographer Maggie Berkvist says. "My father was an only child. My mother was adopted into a family when her mother died in childbirth. So I have no connections! I guess that's what made it easier for me to be footloose and fancy-free." This wanderlust led Berkvist to emigrate to Canada in 1952 with her first husband and then (minus said husband) to move to New York City two years later where she's been ever since.
It was while Berkvist was working at McCann Erickson that she found an opportunity to live on Bank Street. "I worked with a girl who was living there with her husband and always complaining about it," she says. "I asked her to let me know if she moved and, when she did, I got my basement room at number 315 for $35 a month. I also got all the cockroaches you could count. And Peeping Toms! One fellow would creep down the steps and put his finger through the top of my window to try to raise the Venetian blinds and I would scream at him." She laughs. "I was in heaven. I was five blocks from Louie's, a pub on Sheridan Square, and I was exploring New York with friends. This was how my life settled into the West Village in 1956."
That same year Berkvist began her career at the New York Times. "They really gave me my education and my opportunity," she says. "They knew I was into photography and they felt I had potential. When one woman left the picture desk for maternity leave, they gave me a chance. Well, she never came back and I was there for 23 years!" Did she enjoy the job? "I thought I'd died and gone to heaven," she admits. "I loved what I did and the people I was working with. I remember a friend of ours was doing a job-related questionnaire in which she asked us to name our ten favorite things. Afterwards, she said to me, 'You're the only person who's ever said that work was one of them!'"
After a second marriage where she lived in Brooklyn Heights and the Upper West Side, Berkvist returned (minus that husband) to Bank Street in 1965. "Back then, there wasn't a 'West Village,'" she says. "There was just Greenwich Village. Writers, actors, artists, and students came here because it was cheap and bohemian. And it still had a very political edge." When asked what major differences she sees today, Berkvist considers for a moment. "I tell you what's interesting," she finally says. "For any struggling youngster to imagine they can come and live in the Village today, forget it! Once the real estate guys came romping in, the area became out of most people's league. This place has nothing to do with the West Village, as we knew it in the 50s, 60s, 70s, and even the 80s, when they started to trickle in. Remember the yuppies? That was the beginning of the end."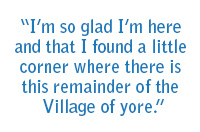 Yet, Berkvist admits that if you look carefully you can still find pockets of compatible souls. "I'm so glad I'm here and that I found a little corner where there is this remainder of the Village of yore," she says. "One of the great moments of discovery for me was during Hurricane Sandy. My little watering hole—the Left Bank—managed to stay open all those nights with just candlelight. We were all hanging out like the good old days, talking to one another and giving each other tips on how to survive until the electricity came back on."
And after celebrating the "remarkable milestone" of six decades here, Berkvist has to admit that most of it was due to luck. "I really was incredibly lucky and it's all to do with being in the right place at the right time," she enthuses. "It's amazing! I look back now because I'm so old and I think how lucky I've been in my life, over and over again. It wasn't that I had the education or the connections, either. It's just that New York and the West Village was really where I was meant to be."
Photo of Maggie Berkvist at the Morton Street Pier, New York City, 1970 by Alfie Timpson.