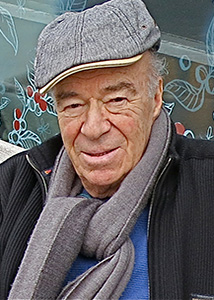 This month's West Village Original is Frederic Block, senior judge of the United States District Court for the Eastern District of New York. Born in Brooklyn in 1934 and raised in Manhattan, he has presided over high-profile cases involving the Crown Heights riots, Kitty Genovese, and mob boss Peter Gotti. Block moved to the West Village in 1994 and is the author of "Disrobed: An Inside Look at the Life and Work of a Federal Trial Judge." He is currently writing a novel as well.

Although he was born in Brooklyn, Frederic Block claims his father did "a wonderful thing" by moving the family to Manhattan when he was nine years old. "We lived at 16 West 72nd Street, across from the New York Historical Society," he recalls. "It was a great placed to be raised from the years of 8 to 18. We used to play stickball in the street and stoop ball on the steps of the Museum of Natural History. That was our playground."
According to Block, he got into law by a process of elimination. "When I barely passed the Regents physics exam in high school I concluded I was not going to be another Albert Einstein," he says ruefully. "So I gravitated to other things. I was always interested in law and I passed the bar in 1959. I wish I could say 1960, it sounds more modern!" He laughs. "But the law keeps your mind very active. You can graduate when I did and still be practicing in 2016. I think there's a correlation to keeping your mind stimulated and enhancing the quality of your life."
What is it about the law that appeals to Block? "For me, the law is an engine of social change," he replies. "When people think of law they think mostly of social issues: abortion, same-sex marriage, etc. Those were all litigated using the law to address them. This is not the product of business, trust, or real estate lawyers by the way. While I respect lawyers of every stripe, I believe what litigators do with the law means the most to people. I think litigators are comparable to what heart surgeons are in medicine."
Block's well-received memoir—Disrobed: An Inside Look at the Life and Work of a Federal Trial Judge—was published a few years ago. "I find that most people don't have a clue about the judiciary," he says, explaining that this behind-the-scenes account of his career as a judge was a way to cast some light on it. "Judges have knowledge and experience," he continues. "We have it within our power to educate people about what the judicial process is all about. I wrote the book to reach out to the public in non-academic language and I thought people would enjoy it."
There's another side to his profession that the public doesn't hear about. "We have a whole range of judges that have creative talents," Block says by way of explanation. "I'm a jazz pianist myself. I also wrote a musical called Professionally Speaking, a send-up about lawyers, doctors, and teachers that had a brief run off-Broadway back in the 80s. I dabble in writing music, which is my hobby. And I'm writing my second book: Law and Disorder. It's a pun. I fictionalize the DA race in Brooklyn when Ken Thompson unseated Charles Hynes."
When Block was appointed judge in 1994 he could have lived any place in the metropolitan area but he chose the West Village. "It appealed to me," he says. "The cultural mix and the character of the place. It has a nice feel to it in terms of the population, the openness, and the whole basic environment."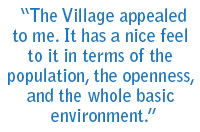 As for the changes he's seen in the interim, some are positive and some worrisome. "I like the way the Hudson River Park has evolved," he says. "When I moved here there was nothing: no grass, no median, and no parkland. Now it's magnificent! On the other hand, I'm looking at a building going up on my street and while it's attractive, it's going to start at $3,000 a square foot! I'm not so sure that's a healthy thing. It only invites a very small group of people into the neighborhood: those who have millions and millions of dollars. I'm afraid it's going to affect the diversity of the Village in the long term and that bothers me a little bit."
And yet he must admit that the West Village encourages—in his own words—his "eclectic personality"? "Oh yes," Block responds. "I feel I'm a real dilettante. It's fortunate that you can have all these interests, especially as you get older. You feel blessed to be that type of person and in a neighborhood that supports it."
Photograph of Frederic Block by Maggie Berkvist.