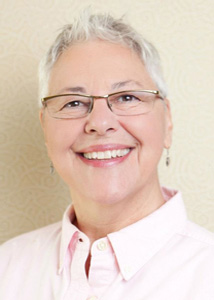 This month's West Village Original is Rainie Cole, a neighborhood resident since 1974 with a background in theater, cabaret and television production. Rainie has written, produced, and performed in numerous cabaret shows, including her most successful production "Always, Patsy Cline." She lives on Charles Street with Cindi Creager, her partner (and now wife) of 14 years. Together they run CreagerCole Communications.

Growing up in Cranston, Rhode Island, Rainie Cole harbored a dark secret but hid it well. "I liked girls," she says. "People recall me as always smiling and happy but inside, I was miserable."
Salvation came when she attended the University of New Hampshire and discovered the theatre department. "This decision affected my life in more ways than one," she says. "I became a full-fledged theater and communications major which surprised everyone, as I was always very shy. It was also here that I formed very strong bonds with some guys in the drama department. When we later discovered that we were all gay, my activism began in its own little way. One aspect of it was that I never hid being gay from anyone again."
In 1980, now living in New York, a friend brought Cole to The Duplex, which was then on Grove Street. She fell in love with it. "It was a great combination of gay men and women, and really accepting straight people, all of whom loved music," she says. "I hung out until I was eventually hired. I also worked at Don't Tell Mama uptown. These were perfect jobs as I was paid to entertain. It gave me an opportunity to develop a following and meet people who would then come to see my solo cabaret shows." When The Duplex moved to its current location, the old space became Rose's Turn and Cole chose to remain working there. "I stayed at that cozy, music-filled hole in the wall until it closed in 2007. So for many years, I had the pleasure of walking to work in the best neighborhood in the City."
Cole also discovered another benefit to working in cabarets. "The establishments encouraged you to leave to do shows on the road," she says. "During that time I performed Annie in Annie Get Your Gun, Rizzo in Grease, and Matron Mama Morton in Chicago, all out of town. I was also cast in an Off-Broadway show, Ten Percent Revue, which had a successful run at the Actors' Playhouse."
What did she like about performing? "I loved the connection with the audience," she replies. "And I sold a song well. For a long time, between my high energy level and acting, I worked successfully and I made a lot of people happy. That made me happy." However, Cole walked away from performing in 2007, tired of the struggle. "I missed performing for a while," she says. "But I have to admit I didn't go into performing for some of the right reasons. I went into it looking for love." She laughs. "You know, getting all the applause. But I've found joy in expressing myself artistically and being creative in other ways. Now—through the business with Cindi—I'm having fun trying to make things happen for other people."
Cole remembers the day she moved to New York City. "It was September 10, 1974, and we moved into a one-bedroom, rent-stabilized apartment on Charles Street," she recalls. "When my then-girlfriend and I unlocked the door, we took a look at the inviting brick wall, and I said 'It's cute, but we won't stay long.' 39 years later, I'm still here!"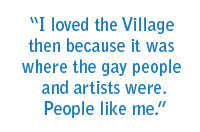 "I loved the Village then because it was where the gay people and artists were," Cole continues. "It's where people like me moved to. But as we know, rents have escalated to the point that artists and young gay people just starting out can't afford our beautiful neighborhood. Something else I regret about the Village: What happened to all the unique shops, cute little bistros, neighborhood bars, and inexpensive holes-in-the-wall? And why did we lose St. Vincent's Hospital?"
"Those are the negatives," she says. "Now let's focus on the positive. I love that the piers we used to call 'Splinter Beach' and 'Tar Beach' have been renovated into beautiful waterside parks. I love the scale of the Village and all the trees. I love the fact that I can see a lot of sky when I walk around my neighborhood. I love that I live five minutes from Washington Square Park. And I love walking the narrow blocks with all the beautiful brownstones. For all that's changed, I still can't imagine calling any other place home."
Photo of Rainie Cole by Lester Echem.