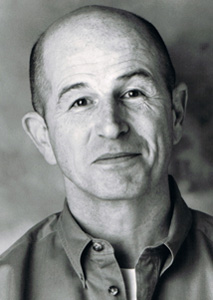 This month's West Village Original is actor and director Everett Quinton, who has lived on Morton Street since 1975. That same year he met Charles Ludlam, founder of the Ridiculous Theatrical Company on Sheridan Square, and they became life partners and collaborators until Mr. Ludlam's death in 1987. Today, Quinton still acts regularly as well as directs, including a recent production of "The Mystery of Irma Vep" at the Everyman Theatre in Baltimore.

Born in Brooklyn in 1951, actor Everett Quinton grew up in Park Slope, as he puts it, "On the poor side of Seventh Avenue." According to him, Brooklyn was pretty provincial then, despite its proximity to Manhattan. "When you went to take the subway," he recalls, "the signs read 'To Coney Island' or 'The City'. Not 'Manhattan'. I was even surprised that people actually lived in Manhattan. I thought it was all just businesses and towering office buildings. To then discover these interesting neighborhoods nestled inside all of that was quite amazing. I was fascinated by it."
Discovering the West Village in particular gave Quinton a sense of freedom, especially with regards to his sexuality. "When I found the West Village," he says, "I vowed to myself, 'No more closet queen! I don't know what's going to happen here but there's going to be no more girl friends and no more lying for me.'" He and Ludlam met on Christopher Street, right next to the Lucille Lortel Theatre, then known as the Theatre de Lys. "Charles's name is on the Theatre Walk of Fame right outside the theater," Quinton says. "Although someone once asked me why his name is so far from everyone else's. It's because I met him on that very spot. He introduced himself and within a year we moved in together on Morton Street."
Quinton's debut with the Ridiculous Theatrical Company was on February 10, 1976 in a show called Caprice. "For some reason, I always remember the date. Maybe because I played a ballerina who gets abducted!" he says, laughing. "It was a last-minute role for me. I was in the theater one day but off in a corner, finishing a term paper for a class at Hunter College. Charles approached me and said that he had written a role but there was no one to fill it. He asked me if I would do it. Since I had been watching rehearsals regularly and was familiar with the play, I agreed. That started my performing career."
After that, Quinton began getting regular roles in Ludlam's company. "A bigger role in Caprice came open, which I auditioned for but didn't get," he says. "Then at one point Charles did Der Ring Gott Farbinjet. I didn't have to audition for that because there were so many roles. Instead, I lobbied for a particular one and got it. Then I showed that I could deliver the goods, so I never had to audition again. I got a company position." From there he was involved in most of the company's iconic productions, including the aforementioned Ring plus Galas, Camille, The Mystery of Irma Vep, and The Artificial Jungle, winning awards for his performances.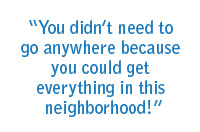 What was the Village like when he moved here? "It was right after Stonewall so there was a sense of neighborhood," he says. Then he corrects himself. "There still is a sense of neighborhood. It's just that I found it to be more self-contained in those days. You didn't need to go anywhere because you could get everything in this neighborhood! There was the Capezio shop on MacDougal Street, where you could buy leotards and dance shoes for a show. Or those two beautiful art supply stores, one on West Fourth Street and one on Greenwich Street. There were two fish markets—as well as Zito's Breads—on Bleecker Street. They all got eaten up by time."
Quinton stops and laughs. "I have to be careful that I don't start sounding like an old man," he says, "complaining about how this has changed and that has changed! Besides, I think the Village will be just fine. And sometimes it just takes time to get used to certain things. Take those glass towers on Charles Street at the river, for example. I am now beginning to accept a certain beauty about them. And what can you do? They are there. Time marches on, and who's the arbiter of beauty? Certainly not me."