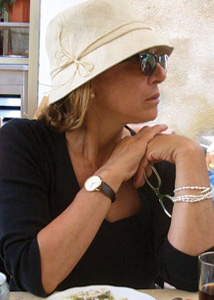 This month's West Village Original is artist, interior designer, and hat designer Kika Schoenfeld. As an interior designer her work includes the interior of the Getty Museum in Los Angeles. As a hat designer, her one-of-a-kind pieces can be found here in New York at the Cooper Hewitt and Moss, as well as in shops in London and Tokyo, and online.

For artist and designer Kika Schoenfeld, except for the occasional foray to spend a few years in Los Angeles or Greece, her entire adult life has been centered on New York's Greenwich Village. "I was born in Tel Aviv and I came to New York at the age of eight with my parents," she says. "We first lived in a hotel in the Upper West Side and then I grew up in Riverdale. When I became an adult I went to Cooper Union, so I was luckily and happily introduced by definition to the lower Village area. Over the years I continued to move further and further west. Now I'm in the West Village and have been for the past two decades."
"After I gradated from Cooper I decided to embark on the life of an artist, so to speak," she continues. "I got married and had a child, and my husband supported my painting. Then we got divorced and I had to support myself. I wasn't able to do it from painting alone and decided to consider going into architecture. In addition to painting, I had studied architecture with Richard Meier at Cooper Union so one night I contacted him to ask his advice. He suggested that I simply go into the world as an interior designer and learn the trade as I went along." That is, indeed, what Schoenfeld did and she found some wonderful opportunities along the way, including moving to Los Angeles for three years to work with Meier designing the Getty.
It was while back in the city that the "big crash" of 2008 forced Schoenfeld to find alternative ways to earn a living. "Suddenly, my interior design work was down to zero," she says. "I had time on my hands and needed to figure out a way to make money. So I thought I would knit. I had enjoyed doing it as a girl and I always found knitting a very meditative process. I could really think things out while doing it."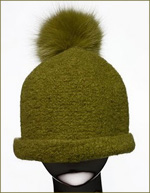 After some trial and error—and deciding slippers and gloves were too troublesome because "I had to make two of them and they had to match!"—Schoenfeld learned the technique of felting. "The fascinating thing is that after knitting and boiling the wool, it comes out different every time," she says. "It's always a bit of a surprise for me, which I love. Otherwise it would get boring." And even though her business is expanding in gratifying ways, Schoenfeld still does all the hats herself. "Each one is numbered and each one is in one way or another unique," she says.
As a resident of the West Village for many years, Schoenfeld has a unique perspective on the change that has come to the neighborhood. "Actually, it's what I would call the 'awakening' of the West Village," she says. "It used to be sleepy and quiet and it was wonderful for that. It had its little shops and ethnic bakeries and butchers, particularly around Bleecker Street. Now there's Marc Jacobs and Ralph Lauren and the like. So it's as if it got polished up. However, even as Bleecker has become ritzier, I find the side streets have stayed completely wonderful. So I'm hoping it's possible to keep things naturally contained like that."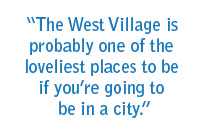 Schoenfeld also speaks excitedly about what is happening in the formerly industrial Meat Market area. "Personally, I'm delighted with additions like the High Line, as well as all the new architecture that's going up in the far West Village. I think it's wonderful and exciting and beautiful and not deadly. As long as is doesn't spread into—and spoil—the rest of the Village!"
For Schoenfeld, spending a creative lifetime here has almost been a blessing. "To me it's the heart of the heart of the heart of the country," she confesses. "That's it. It's like ground zero for life. If you're going to live in this world at this time, the West Village is probably one of the loveliest places to be if you're going to be in a city. If you live a life like I do, where I shuttle between my house on the North Fork with its solitude and the West Village, it's the best combination there is. I'm really lucky to have it."