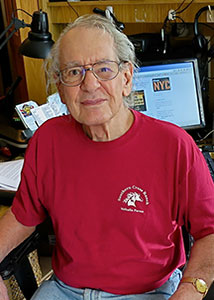 This month's West Village Original is playwright and screenwriter Erwin Lerner, born in the Bronx in 1935. The author of such plays as "Dilemma," "Katz' Poem," and "Happy New Year, Love," Lerner served in the Air Force as a cryptographer for four years before moving back to New York and, eventually, Greenwich Village. Lerner met his wife of 43 years, Mary T. Phillips, when they lived across the courtyard from each other on West 10th Street. Today they reside on Morton Street.

For Erwin Lerner, his desire to become a playwright was put on hold for a number of years while he explored other options. "If I had worked in the post office my uncultured middle-class family would have been very happy," he says. "I quit high school when I was 16 and joined the Air Force. When I got out, my mother—who was working for L'Oreal of Paris at the time—convinced me to become a hairdresser. She thought it would straighten me out! I went along with it and became excellent at it. But I was more interested in developing my mind and I just wanted to be a playwright."
When that finally came about, Lerner's plays were produced off-off Broadway. But according to him it was a difficult journey. "People Off-Off-Broadway were all very left wing and I was proud of my military status so that made me an outlaw in theatre culture in the Village," he says. "They were all dealing with the anti-war movement and Vietnam and I had no problem with either. It made me a pariah, but I just kept doing my thing. I would find a director and we'd get a cast together and do a number performances. Throughout it all, I was growing up."
Lerner claims that the "stifled intelligence level" of society and civilization are what he was trying to depict in his plays. "But I wanted to enlighten people without being boring or giving them a lecture," he says. "My plays are funny and about the idea that there's no solution to life's problems. I had this play where the characters would just run around in circles." As for his writing process, as he got into a play he found he would start to live it. "I was in the world of the play. I would go where it took me. When it was over I would rewrite and edit until I finally finished it. My plays are very sharp. I feel like I took theater in a different direction. And while my style impressed a lot of people it pissed a lot of people off, too," he says, laughing.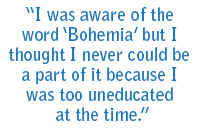 What drew Lerner to Greenwich Village? "I was aware of the word 'Bohemia' but I thought I never could be a part of it because I was too uneducated at the time," he says. "Then I got to the Village and started reading and expanding my brain. I became intellectual, philosophical, historical, and everything that I thought I should become. I became educated and I started to understand the universe a little bit. The world all around me was just so interesting. Up until my first play, I was a very insecure person. But the reaction to it was so good I remember thinking when I got back to my apartment that I would never be afraid of anything again in my life. And I've been feeling that way since."
When asked how much the West Village has changed since he moved here 52 years ago, Lerner laughingly exclaims, "The rich got richer and the poor got outta here!" Then he becomes serious. "There's been an immensity of money that's changed everything," he observes. "Things have gotten prettier, of course, but at the same time there are a lot of boarded up shops so that's an odd juxtaposition A lot of money came over from Europe and the buildings they bought into were expensive. This new generation has a lot of money. A lot of it is inherited and of course that kind of money earns a lot by itself."
These days, Lerner is tethered to an oxygen tank all the time as he suffers from emphysema. Yet he remains upbeat and happy to be in the West Village. "I'm a hermit here but I make the most of it," he declares. "I'm on my computer. I'm writing a phantasmagoric memoir, not really my life but rather my life with a different dimension. I'm relating with my wife. We've had this wonderful marriage for 43 years and I'm very lucky. Given what I started with I like to think that I helped create my life as it is. That gives me a good sense of my creativity. And I keep going."
Photo of Erwin Lerner by Maggie Berkvist.